Stress, everyone has it too some degree – some is healthy, lots is not. 
What effect does a lot of stress have on your body?
Stress is known to affect the whole body but we shall focus on the way it affects the neck and shoulder girdle. Much research over the years has confirmed a connection between neck pain and stress. One study, for instance, in the BMC Musculoskeletal Disorders Journal, found that of nearly 500 people tested, those with stress,  anxiety or depression had significantly worse neck pain that lasted longer than those without.
Even without the research though, lots of people will tell you that stress makes their neck and shoulders feel tight. When someone consciously relaxes, one of the most noticeable things to happen is their shoulders drop a couple of inches. 
I'd go even further, and say that as the brain recognises the connection between stress and neck & shoulder tightness (and in fact initiates it). Let me explain, if someone has a tight neck or shoulders due to another cause, the brain, rightfully or wrongfully interprets this as the body being stressed. 
If you have those muscles massaged and loosened and the neck releases, most people feel immediately less stressed. 
Some of the many causes of neck or shoulder girdle dysfunction and stress crossover, such as long hours working at a computer to meet deadlines, and not sleeping very well. From this, secondary symptoms can develop, most commonly, headaches.
Some exercises that I recommend for tension headaches can be found here. 
So what can we do about it?
Well, as always, firstly make sure there is nothing else causing your symptoms. Get a health professional to assess you and diagnose what is causing your symptoms.
If the diagnosis is stress or posture-related then get it treated. It's important to treat from both a musculoskeletal point-of-view as well as understand and address the cause of your stress.
Alongside this, there are a number of at-home techniques you can do to help ease the tension in your neck and shoulders. 
1. Do neck and shoulder mobility exercises.
A couple of quick and easy exercises I would recommend would be:
Exercise 1 :
Exercise 2 :
Exercise 3 :
2.  Get a good amount of quality sleep.
Stress is known to affect your ability to sleep. There are things you can do to give yourself the best chance of sleep.
– Make sure you're comfortable in bed
– Be strict with no blue light (screens) for at least an hour before bed
– Having a warm bath or shower to help you relax
3. Find something to relax you.
It doesn't have to be meditation or yoga, it could be exercise or playing an instrument. Perhaps avoiding instruments such as the violin which will exacerbate neck & shoulder pain. The ides if to find something that sends you to your flow state. Something that will distract you that you really enjoy and will relax you.
4. Work in a good environment.
Set up your workstation in an ergonomic way will do wonders for your posture. Remember to have lots of breaks and consider investing in a standing desk. If you're interested in knowing what an ergonomic workstation set up looks like, continue reading here.
5. Speak to a healthcare professional.
Your health professional may recommend you get support or therapy for your stress, anxiety or depression, or any mental health issues you may be experiencing.
_____________________
Is Osteopathy the right path for you?
Osteopathy is a holistic way to diagnose and alleviate stress-related musculoskeletal problems including shoulder and neck pain and secondary symptoms such as headaches. The treatment is catered to the individual and Andrew will take all aspects of a patient's lifestyle into consideration when suggesting a treatment plan.
All treatment starts with an initial consultation followed by any recommended follow up treatment. You can book your initial consultation with Andrew Doody online.
A good night's sleep is essential to your health, and an important part of your overall well-being. People spend about a third of their lives in bed, so it's vitally important to get it right when it comes to back health. Back pain can significantly affect a person's ability to get the quality and amount of sleep they need. Furthermore, poor bed posture can worsen or even be the cause of backache in the first place. This is because certain positions can place unnecessary pressure on the neck, hips, and back.
This blog will provide an in-depth review of different sleeping positions and types of beds and the impact both have on your quality of sleep.
Sleeping positions
Before looking at the positions to sleep better, it is important to address a few crucial things. First and foremost, you should be comfortable. For a good night's sleep, waking up feeling properly rested and not in pain is the most important thing. If any of these positions cause issues, don't hesitate in letting me (or another osteopath) know so that alternative suggestions can be made and you find something else that works for you.
Secondly, I know it's not always possible to control what position you get into once you've fallen asleep. However, this is where perseverance comes in, if you keep trying, your body can adapt in a week or two. Pillows are always a good ally, to stop you rolling one way or the other.
Here are some positional tips that can help you get a better night's sleep:
1. The Classic: Lying on your back.
Lying on the back is probably the best all-around sleeping position for a healthy back. It ensures good spinal alignment from the head and cervical vertebrae, through the thoracic and lumbar, all the way down to the pelvis. Because the back is the body's largest area, weight is most widely distributed in this position, minimising pressure hot spots. This doesn't suit everyone though, some people don't feel as 'nested' as in other positions so, they struggle to get to sleep on their backs. Also, snorers may find that this position exacerbates the problem.
For people who like back sleeping, it's definitely worth adding a pillow under your knees. It loosens the hamstrings a little and takes some pressure off the lumbar lordosis.
2. The Foetal Position: Lying on your side with your knees up a little.
This is a fairly intuitive position to get into if you have lumbar disc issues as it slightly flexes the low back and opens up the gaps in the facet joints.
Again, a good tip in this position is to use a pillow, however, this time put it in between your knees. This stops your top leg dropping forward and rotating the low back. It also aligns your hips and pelvis better, and feels more comfortable on the upper knee.
Try to swap sides from time to time if you're lying in the foetal position.
3. Face Down: Lying on your stomach. 
I normally ask people to avoid this position, it's usually quite problematic for the neck as well as the low back. Unfortunately, for a lot of people, it's the only position they can fall asleep in, or any other position makes them snore. If you're one of them, reach for that extra pillow again and put it under your low stomach and upper pelvis to take the pressure off the low back. This is a good idea if you're having a massage too. Front lying needs a much flatter pillow (or even no pillow) under the head too.
If you're someone who falls asleep on their back or side, then rolls over in their sleep and wakes up on their stomach, try hugging a large pillow against your chest and stomach to keep you in position. Another reason sleeping on the front is considered bad is because the head is usually turned to one side. This twists the spine and places additional stress on the neck, shoulders, and back. To avoid this, you can try lying face down. Place a small firm pillow or tightly rolled-up towel under the forehead, or better still a face pillow, allowing room to breathe. In this position, you should still place a pillow under the stomach.
4. Reclined Sleeping.
If all else fails, you can try sleeping in a reclined position. People with spondylolisthesis, for instance, may resort to this after finding it comfortable falling asleep in a recliner chair. There are beds available that can be sat up slightly. So, this is worth investigating.
What about the perfect bed for sleep?
There are so many different opinions about beds that I don't even know where to start, nonetheless here's mine.
Spend some time and effort (and dare I say money) choosing a bed and mattress. People seem happy to spend thirty times or more on a car than a mattress, but remember, a third of your life is spent in bed! 
It's really difficult to choose a mattress on a twenty minute trip to the bed store, so really take your time, spend an afternoon there, take your shoes off, try different sleeping positions, not just lying on your back! Do your research before you go, but make sure the review sites you look at aren't secretly run by a bed company, or affiliated to one.
Firmness
Try not to be seduced by softness. Lots of people jot down the name of a mattress they've found comfortable in a hotel, and while this can sometimes be a good indicator, you should know that hotels buy mattresses to give you a couple of nights feeling like you were sleeping on a cloud, but these mattresses are usually not supportive enough to be using full time, especially if you have low back issues, which can be aggravated over weeks and months. Often the mattress in a big hotel chain is not available to buy for the public as they are specifically manufactured for different hotels' standards.
A fairly firm mattress is usually a good idea, perhaps with a shallow in-built topper. This can give you the support you need for your low back while the topper takes the pressure off bony prominences and allows shoulders and hips of side sleepers to sink in a little. I suggested a built in topper as they are usually better segmented and don't allow stuffing to move around and bunch up as much. However, removable toppers give you more scope to adapt by removing it if needed, and also allow you to flip the mattress.
Mattresses that are fully stuffed as well as sprung are good and supportive. Price is a good indicator for a quality mattress. £1,500 for a king size mattress is not excessive. While we're talking about price, beware of anything that seems too good to be true. The "Winning awards" mattresses need to be checked as to which award, and who's giving it!
Memory Foam Mattress
Patients have different opinions about memory foam mattresses. While some patients swear by them, others do not get along with them. I'd like to reiterate the price, if you're set on a memory foam mattress, find the one with better quality, so it doesn't start to develop a permanent dip where you lie. It's all about density which is measured in pounds of pressure per cubic square foot. More is normally more expensive and better quality, but at the same time is also more supportive and feels harder. 
There can be a problem with memory foam mattresses feeling too hot. While many of the better brands have addressed this to an extent, many memory foam mattresses have become hybrids so, it's not just 100% foam any more.
Platform Bases
Mattresses should be changed about every 8 years, but you can keep the same bed base, of course, as long as it's not damaged. Divans have pretty thin wood tops that can crack or bow so, check it carefully. 
In my opinion, a platform base is always the best. If the base is sprung, the whole mattress will start to fold which is usually not what they're designed to do. A slatted base is slightly better than a fully sprung one, but still not as good as a solid base.
Pillows
Finally, I should mention pillows. Pillows are very subjective to the person, and especially to any neck/upper back/shoulder girdle conditions they may have. 
As a rule of thumb (and this is painting with a very broad brush) people seem to usually have too much pillow depth more often than too little. One medium depth pillow is usually best if you don't have any specific issues. I find feather works well as you can punch and mould it to the right height and shape, so there is some support under your neck but that's very much a personal preference.
I rarely see anyone who gets on well with memory foam pillows (there are the odd one or two) or sprung pillows.
The price of a good feather pillow is probably about £50, but as I said right at the start, I want you to not only be in a good position, but also comfortable and pain-free during the night and the next day, so if a £5 pillow works for you then that's absolutely fine. Don't forget most pillows can be laundered regularly which may give (especially feather pillows) some of their volume back.
If you are experiencing neck pain though, get your neck examined and treated first and ask your osteopath what pillow they would suggest for you specifically going forward.
BE 'BED FIT'
The healthier and stronger your back is, the better night's sleep you will get and the better your back will be when you get up in the morning.
Core strengthening exercises will help support the back during the night and prevent back spasms. Gentle stretching before bed can increase flexibility and help to relax the body and reduce stress.
Take care getting in, and especially out, of bed. Take your time. When you wake up in the morning, allow a few minutes to get your muscles and joints moving fully instead of leaping out of bed at the alarm. Roll onto your side then use your arms to push you upright while your legs drop over the side, then sit there for a minute moving gently before slowly standing up.
Perhaps most importantly, if you do have a back or musculoskeletal issue, get it checked. A health professional can assess why you're suffering and help treat the symptoms. They can suggest the correct investigations, treatment and exercises, as well as further helping you to choose that all important correct mattress.
Booking an appointment with an osteopath could be the start of ending your back pain for good!
October is Breast Cancer Awareness Month
You may notice an increased amount of pink during this month, especially iconic pink ribbons, and it's for a good reason: October is Breast Cancer Awareness Month.
This annual campaign aims to increase the awareness of the disease and to raise funds for research into its cause, prevention, diagnosis and treatment. With the hope that in the not too distant future, a cure will be found!
Breast Cancer is the most common cancer in the UK. 1 in 8 women in the UK will be diagnosed at some point in their lives.
In the UK, over 55,000 women each year are diagnosed with Breast Cancer which is the most common cancer. Thanks to research, more people are surviving breast cancer than ever before, yet there are still nearly 1,000 women who'll die of breast cancer each month. Breast cancer is often thought of as something that only affects women, but men can get it in rare cases. It is important for males (especially those over 75 years with a high BMI) to check breast tissue for abnormalities as well.
We will be sharing important information on symptoms, causes and lifestyle alteration you can make to reduce your risk.
We are urging everyone, especially women, to check their breasts regularly and get checked out by a professional if something seems unusual for you.
REMEMBER: The earlier breast cancer is diagnosed, the easier it is to treat and the better the chance of successful treatment.
BREAST CANCER SYMPTOMS TO LOOK OUT FOR:
a new lump or thickening in your breast, upper chest area or armpit

a change in size, shape or feel of your breast

skin changes in the breast such as puckering, dimpling, a rash or redness of the skin

fluid leaking from the nipple in a woman who isn't pregnant or breastfeeding

changes in the position of the nipple

Unexplained pain in your breast or armpit that's there all or almost all the time
How to check your breasts
Checking your breasts yourself means you'll get to know what is "normal" for you. As a society we are probably not that familiar with how our body currently is and so that makes it difficult to know what subtle changes happen. It's most likely that unless a dramatic change has occurred a subtle change will go unnoticed.
So, how do you check your breasts?
There is no special technique and you don't need any training to start checking your breasts. It may feel like you're unsure what you're doing but get to know your body and any breast check is better than no breast check.

The easiest and most accurate way is to divide the breasts into four quadrants; the upper outer quadrant, outer lower quadrant, inner lower quadrant and inner upper quadrant. Examine each quadrant with the flat of your hand. It is important to do this regularly so that you are familiar with what each breast feels like normally. That way, should you notice any changes, (hopefully not), you will pick them up straight away and changes won't go unnoticed. It is important to remember to check your armpits as well. It is surprising how many breast lumps are discovered after an "axillary" or armpit lymph node is found and checked.
Breast Cancer Now advises the TLC method – "touch, look and check".
Touch: Can you feel anything new or unusual?
Look: Does anything look different?
Check: Any changes with your GP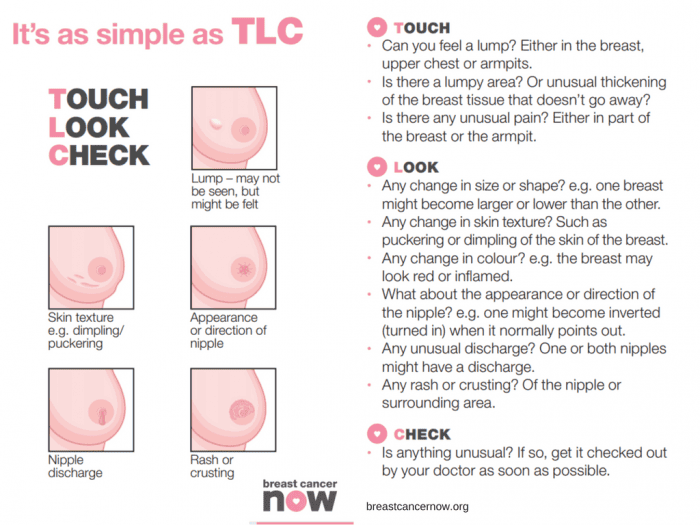 You should check your breasts Regularly
Get to know your "normal" by checking your breasts regularly. Get in the habit of checking your breasts at least every month. It can be easier whilst in the bath or shower. 
Your breasts can change throughout your life for many reasons – like the menopause, pregnancy and breastfeeding, or puberty. So, if you check them regularly, you'll be able to spot any new or unusual changes that should be checked out by a GP.  
For young and pre-menopausal women it is advised to check mid-cycle (a week after their period finishes) if there are any changes this requires checking with your GP. 
As older women are of a higher risk of breast cancer, due to age, it is advised they check even more frequently. Older women should check on a monthly basis without exception. It is advised for men to check also.
Any lump requires attention and checking with your GP immediately.
In addition to regular self-checks, it is important to never miss a mammogram appointment. They may be painful and momentarily uncomfortable, but a mammogram can save your life. If you have a long wait for a mammogram, are unable to access an appointment or just want an additional check, contact the Fleet Street Clinic and we should be pleased to help.
What are the causes of breast cancer?
There are several factors that contribute to increasing your risk of developing breast cancer. There is no single cause, and has to do with our lifestyle, environment and genetics. There are factors which we simply cannot control such as getting older, family history, inherited genes, dense breast tissue, hormones and age at which period started and stopped. However, there are some lifestyle choices that if altered can reduce your risk of breast cancer.
Lifestyle change that will reduce your risk of breast cancer
1. Your weight
Being overweight or obese has a high risk of breast cancer in both men and women (especially after menopause). You can work out your ideal weight using a BMI (Body Mass Index) calculator, this checks your height and weight to see if you are at a healthy weight. For the majority of adults an ideal BMI ranges from 18.5 to 24.9. A BMI between 25 – 30 means overweight. Obesity means a BMI of 30 and above.
2. How much alcohol you drink
Alcohol consumption increases the risk of breast cancer. The risk is greater with each extra unit per day, the latest UK guidelines state no more than 14 units a week. 
3. How much exercise you do
Being inactive contributes to a small increased risk of breast cancer, this qualifies as doing less than 150min of moderate activity on a weekly basis. This does not necessarily mean sport and exercise, anything that makes you warmer and out of breath counts.
Throughout October we'll be highlighting the reasons to support this campaign across our social media platforms. We will be sharing inspirational stories from those who have survived the disease and those who are currently battling.  We will also hear from those who have supported a suffering loved one during treatment. Sharing these stories humanises the disease and can provide support/tips for those who may be struggling with a current diagnosis. We will be sharing ways of checking for early warning signs. We'll also be encouraging all to undertake a Well-Woman or Well-Man health checks. Both of which contain a breast examination.
At Fleet Street Clinic, we specialise in women's health and have four female GPs on-site to facilitate well-woman health checks. Our Executive Well Woman medical is focused on protecting your well-being and involves a full examination including breast examinations and cervical screen tests. Our comprehensive medical is designed to screen for health problems at the earliest possible stage.
Book Your Well Woman Medical Online. Or if you notice any changes to your breast or have any concerns, you should book a GP appointment as soon as possible.
_______________
To find out more from Breast Cancer Now, visit breastcancernow.org
Cutting back on alcohol can be a really effective way to improve your health, boost your energy, loose weight and save money.
In 2016, the Chief Medical Officers in the UK reduced the recommended amount of alcohol you should consume a week due to concerns about the risk of cancer. New research confirmed that even drinking a small amount of alcohol per week can cause an increase in risk of cancer.
From then onwards, it has been recommended that men and women have the same weekly intake of units per week. According to the UK low risk drinking guidelines, you should drink no more than 14 units a week, make sure you have several drink-free days, and never binge drink.
&nbsp
What does 14 units of alcohol look like?
Because alcoholic drinks come in different strengths and sizes, units are a way to tell how strong your drink is. 14 units is equivalent to six pints of average strength beer or six medium (175ml) glasses of average strength wine.

It's safest for both men and women to drink no more than 14 units a week, spread over three or more days with several drink-free days, and no bingeing.
Your risk of death from long term illness, accident or injury, is increased if you 'binge drink' 1 or more times a week.
How long does alcohol stay in your body:
On average, it takes about one hour for your body to break down one unit of alcohol. However, this can vary, depending on: 
Your weight

Whether you're male or female

Your age 

How quickly or slowly your body turns food into energy (your metabolism) 

How much food you have eaten
What are the consequences of drinking too much alcohol:
Low mood/mood swings

Liver problems

Heart problems

Cancers (mouth, tongue, throat, oesophagus)

Weight gain

Poor sleep

Blood pressure instability
What are the benefits to cutting down on alcohol?
Short-term benefits:
waking up in a better mood
being less tired and more energetic throughout the day
healthier looking skin
saving some money
Long-term benefits:
lower your blood pressure
lower the risk of diseases including cancer, stroke, hypertension and liver disease
lower your cholesterol levels
your memory will improve
better quality of sleep
help with weight management*
* Did you know? Alcoholic drinks are high in calories, so cutting back on the amount you drink can really help to reduce your calorie intake.
According to our GP & Occupation Health Physician, Dr Claire Braham;
"When you drink alcohol, you lose around 4 times as much fluid as you drink.
It is therefore easy to understand why dehydrated often occurs. Dehydration symptoms are much like your classic hangover symptoms and will include headache, nausea and fatigue. These symptoms will become present when you are about 2-percent dehydrated, which is about when you start to feel thirst.
Avoiding alcohol means better hydration and sleep which will reduce hangovers and headaches, reduce tiredness, reduce sickness, increase your concentration and improve your overall control over emotions and behaviour. This leads to more productivity, better decision making and overall less accidents, regrets and more enjoyment.
It is not advised to drink more than 14 units a week, which is the equivalent of 6 pints of beer. That converts to 1,092 calories in total and would need 109 minutes of running to burn off those additional consumed calories. Abstinence is an easy way to avoid festivity weight gain.

Nowadays it is very easy to cut down or cut out alcohol. There is a wide variety of alcohol-free beer, wine, prosecco, gin, vodka, whisky and other spirits available on the market. These include some which are vegan and gluten-free as well as often free from sugar and artificial sweeteners. So you can still enjoy a 'drink', without the alcohol and high-sugar but with health benefits."
For further detail of how alcohol can have a negative impact on your health, head to drinkaware.co.uk for more information and advice on drinking.
If you have concerns about the amount of alcohol you are drinking or about your health you should speak to a GP. You can book an appointment online.
More information on our GP service can be found here.