Fleet Street Clinic is not a VAT registered company
Nurse Services
Fleet Street Clinic has a team of highly-qualified nurses, experienced in dealing with a wide range of medical conditions including wound care, stitch and staple removal and instant testing.
As well as being highly experienced, our nurses provide a safe, friendly and confidential environment where you are able to freely discuss any health concerns.
They will talk you through the procedure before undertaking any treatment and recommend any further treatment, if necessary.
Any personal information shared will be held in confidence and all treatment will be carried out to the highest standards of care.
Same day nurse services on Fleet St. London
I was dealt with promptly, professionally, with great care and sensitivity

My NHS nurse had to cancel an appointment and was unable to re-dress a wound caused by a cat bite for a further week. I didn't want to leave it that long and was able to see Becky yesterday morning. I have not been to the Clinic before but will certainly call again if I need to. I was dealt with promptly, professionally, with great care and sensitivity. Thank you.

- Stella Jackson
Fleet Street Clinic is not a VAT registered company
Experience is Everything
When it comes to your health, experience is everything.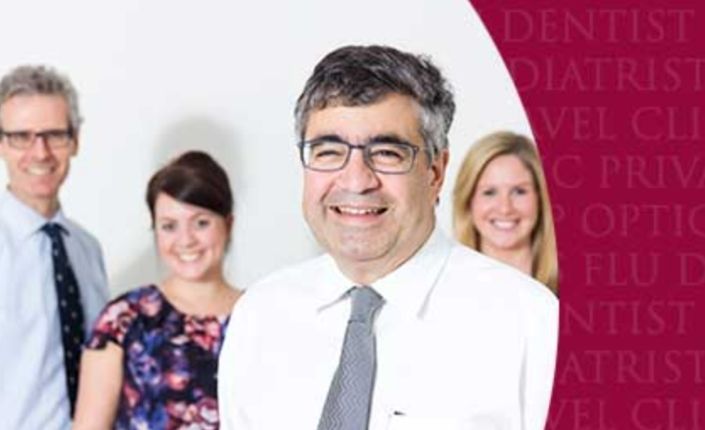 Our dedicated clinicians deliver unparalleled, individual care and attention. Experience translates into good clinical judgement, early and accurate diagnosis, timely treatment, and excellent, all-round care. It also brings fast access to a broad network of world-class specialists across the full range of medical and surgical disciplines.
When it comes to delivering excellence in private medical care, experience counts.
FAQs
All Practice Nurses begin their careers as a registered nurse by doing an associated degree in nursing. To become a Practice Nurse, additional training is required. Practice nurses work in GP surgeries where they plan and provide nursing services and treatment to patients of all ages.
Generally speaking, whoever applied the original wound dressing should advise how frequently it will require changing. This is usually by a doctor or Practice Nurse. Thereafter, one of our nurses can advise how often your dressing should be changed depending on the type of wound and how well the wound is healing.
Wound dressings are designed to provide the most optimum conditions for wound healing, while protecting the wound from any further damage and infection. Changing the dressing properly will help the wound to heal faster and also help protect it and prevent possible infections. It is also an opportunity for one of our nurses to monitor how well the wound is healing.
Ideally the wound dressing must be kept dry. If the dressing becomes wet from any liquid or blood, it has to be changed. This is because, getting your dressing wet can help spread bacteria which might cause an infection.
People do have different pain thresholds and so this question can be quite tricky to answer. Depending on how the stitches have healed, how many you have and where they are on the body will influence how painful they are to remove. In general, the process for removing stitches is simple and shouldn't hurt. You may feel a slight tugging sensation, but it should be relatively pain-free.
It is very important that you do not get your stitches removed until the wound has had sufficient time to heal. Our nurse will advise you on when you should have your stitches removed. Stitches on different parts of the body require different healing times
If there is any specific aftercare necessary for your particular wound, the nurse will advise you. Generally speaking, you should keep the area clean and protected. There is a possibility that a scar may form where the stitches were – in this case, you should take extra care in applying high factor suncream on the area as this can help prevent skin discolouration.
When we refer to instant testing, we are talking about a "point of care" test where you can have the test done and the results back all within the same 15 minute nurse appointment. Instant testing can be a standalone appointment to check your health, alternatively, your doctor may suggest you do one of these testing as part of their investigation.
High cholesterol can block your blood vessels, which makes you more susceptible to heart issues which can lead to heart attacks or strokes. Having high cholesterol doesn't usually cause any physical symptoms and so it can silently get worse over time. It is vitally important to get tested in order to prevent life-threatening illnesses and start treatment as soon as possible.
There is no need to fast before an HbA1C test – you can eat and drink as normal.
A HbA1C test is used to diagnose diabetes and can also tell us your risk of developing type 2 diabetes including if you are pre-diabetic. Type 2 diabetes can cause serious health issues including heart disease, stroke, poor circulation and eye health issues.
Understanding your current risk is therefore very important in knowing where you need to make lifestyle changes or not. If your results indicate that you already have type 2 diabetes, medication may also be prescribed to help prevent further complications.
Yes, you can have a regular HbA1C test to see how well your diabetes has been recently managed. It would also give you the opportunity to have a conversation with a nurse of any concerns or issues you may have.
We are conscientious that some of our patients or their close family members are deemed clinically vulnerable. Therefore, all our staff are fully vaccinated against Covid-19 for your protection and peace of mind.