October is Breast Cancer Awareness Month
You may notice an increased amount of pink during this month, especially iconic pink ribbons, and it's for a good reason: October is Breast Cancer Awareness Month.
This annual campaign aims to increase the awareness of the disease and to raise funds for research into its cause, prevention, diagnosis and treatment. With the hope that in the not too distant future, a cure will be found!
Breast Cancer is the most common cancer in the UK. 1 in 8 women in the UK will be diagnosed at some point in their lives.
In the UK, over 55,000 women each year are diagnosed with Breast Cancer which is the most common cancer. Thanks to research, more people are surviving breast cancer than ever before, yet there are still nearly 1,000 women who'll die of breast cancer each month. Breast cancer is often thought of as something that only affects women, but men can get it in rare cases. It is important for males (especially those over 75 years with a high BMI) to check breast tissue for abnormalities as well.
We will be sharing important information on symptoms, causes and lifestyle alteration you can make to reduce your risk.
We are urging everyone, especially women, to check their breasts regularly and get checked out by a professional if something seems unusual for you.
REMEMBER: The earlier breast cancer is diagnosed, the easier it is to treat and the better the chance of successful treatment.
BREAST CANCER SYMPTOMS TO LOOK OUT FOR:
a new lump or thickening in your breast, upper chest area or armpit

a change in size, shape or feel of your breast

skin changes in the breast such as puckering, dimpling, a rash or redness of the skin

fluid leaking from the nipple in a woman who isn't pregnant or breastfeeding

changes in the position of the nipple

Unexplained pain in your breast or armpit that's there all or almost all the time
How to check your breasts
Checking your breasts yourself means you'll get to know what is "normal" for you. As a society we are probably not that familiar with how our body currently is and so that makes it difficult to know what subtle changes happen. It's most likely that unless a dramatic change has occurred a subtle change will go unnoticed.
So, how do you check your breasts?
There is no special technique and you don't need any training to start checking your breasts. It may feel like you're unsure what you're doing but get to know your body and any breast check is better than no breast check.

The easiest and most accurate way is to divide the breasts into four quadrants; the upper outer quadrant, outer lower quadrant, inner lower quadrant and inner upper quadrant. Examine each quadrant with the flat of your hand. It is important to do this regularly so that you are familiar with what each breast feels like normally. That way, should you notice any changes, (hopefully not), you will pick them up straight away and changes won't go unnoticed. It is important to remember to check your armpits as well. It is surprising how many breast lumps are discovered after an "axillary" or armpit lymph node is found and checked.
Breast Cancer Now advises the TLC method – "touch, look and check".
Touch: Can you feel anything new or unusual?
Look: Does anything look different?
Check: Any changes with your GP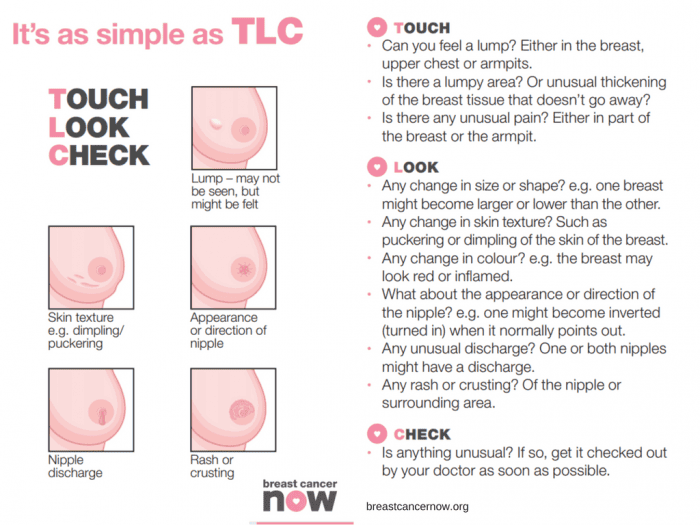 You should check your breasts Regularly
Get to know your "normal" by checking your breasts regularly. Get in the habit of checking your breasts at least every month. It can be easier whilst in the bath or shower. 
Your breasts can change throughout your life for many reasons – like the menopause, pregnancy and breastfeeding, or puberty. So, if you check them regularly, you'll be able to spot any new or unusual changes that should be checked out by a GP.  
For young and pre-menopausal women it is advised to check mid-cycle (a week after their period finishes) if there are any changes this requires checking with your GP. 
As older women are of a higher risk of breast cancer, due to age, it is advised they check even more frequently. Older women should check on a monthly basis without exception. It is advised for men to check also.
Any lump requires attention and checking with your GP immediately.
In addition to regular self-checks, it is important to never miss a mammogram appointment. They may be painful and momentarily uncomfortable, but a mammogram can save your life. If you have a long wait for a mammogram, are unable to access an appointment or just want an additional check, contact the Fleet Street Clinic and we should be pleased to help.
What are the causes of breast cancer?
There are several factors that contribute to increasing your risk of developing breast cancer. There is no single cause, and has to do with our lifestyle, environment and genetics. There are factors which we simply cannot control such as getting older, family history, inherited genes, dense breast tissue, hormones and age at which period started and stopped. However, there are some lifestyle choices that if altered can reduce your risk of breast cancer.
Lifestyle change that will reduce your risk of breast cancer
1. Your weight
Being overweight or obese has a high risk of breast cancer in both men and women (especially after menopause). You can work out your ideal weight using a BMI (Body Mass Index) calculator, this checks your height and weight to see if you are at a healthy weight. For the majority of adults an ideal BMI ranges from 18.5 to 24.9. A BMI between 25 – 30 means overweight. Obesity means a BMI of 30 and above.
2. How much alcohol you drink
Alcohol consumption increases the risk of breast cancer. The risk is greater with each extra unit per day, the latest UK guidelines state no more than 14 units a week. 
3. How much exercise you do
Being inactive contributes to a small increased risk of breast cancer, this qualifies as doing less than 150min of moderate activity on a weekly basis. This does not necessarily mean sport and exercise, anything that makes you warmer and out of breath counts.
Throughout October we'll be highlighting the reasons to support this campaign across our social media platforms. We will be sharing inspirational stories from those who have survived the disease and those who are currently battling.  We will also hear from those who have supported a suffering loved one during treatment. Sharing these stories humanises the disease and can provide support/tips for those who may be struggling with a current diagnosis. We will be sharing ways of checking for early warning signs. We'll also be encouraging all to undertake a Well-Woman or Well-Man health checks. Both of which contain a breast examination.
At Fleet Street Clinic, we specialise in women's health and have four female GPs on-site to facilitate well-woman health checks. Our Executive Well Woman medical is focused on protecting your well-being and involves a full examination including breast examinations and cervical screen tests. Our comprehensive medical is designed to screen for health problems at the earliest possible stage.
Book Your Well Woman Medical Online. Or if you notice any changes to your breast or have any concerns, you should book a GP appointment as soon as possible.
_______________
To find out more from Breast Cancer Now, visit breastcancernow.org