Sepsis Signs:
World Sepsis Day – 13 September
Sepsis is a global health crisis and affects 27 to 30 million people every year. Out of those affected, 7 to 9 million dies. That's one death every 3.5 seconds.
Sometimes called the silent killer, Sepsis is a bacterial infection of the blood which can become life-threatening. It is very hard to detect in the early stages, with symptoms similar to many other conditions and illnesses. In the UK alone, around 37,000 people die from sepsis each year.
Thankfully, due to public awareness increasing due to medical bodies and health campaigns, sepsis is being talked about more. As a result, parents and doctors have the condition forefront-of-their mind. The condition is treatable with early recognition and care.
Causes of Sepsis
Bacterial infections are the most common causes of Sepsis. However, Sepsis can also be caused by infections like seasonal influenza viruses, dengue viruses, and highly transmissible pathogens.
Children under 1, the elderly and those with chronic diseases and a weakened immune system are most at risk of sepsis.
Symptoms of Sepsis
Sepsis can display in a variety of ways including:
Slurred speech or confusion

Extreme shivering or muscle pain or fever

Passing no urine all-day

Severe breathlessness

It feels like you're going to die

Skin mottled or discoloured
If someone is ill and is getting progressively worse with two or more of the above symptoms, then it is advised for you to go to A & E without delay.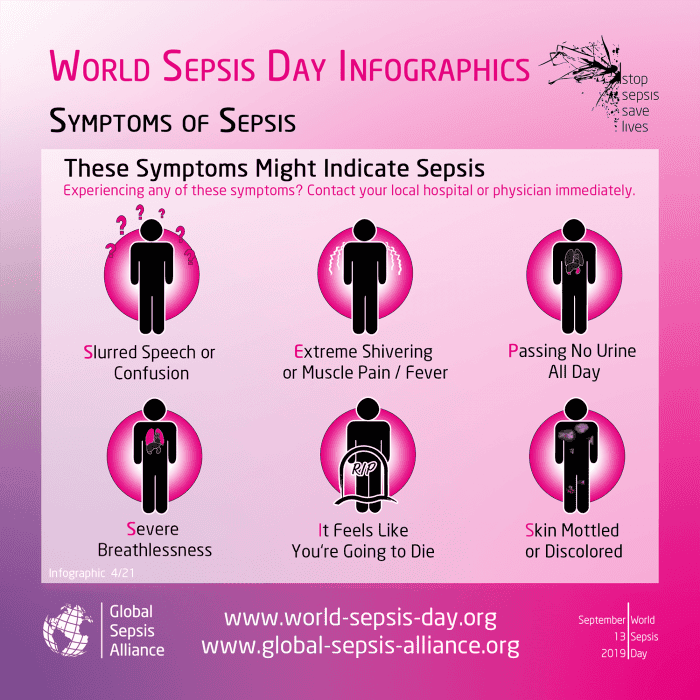 Preventing Sepsis
Preventing infection in the first place is the best way to prevent Sepsis from occurring.
This can be done by:
Vaccinations – protect yourself from diseases which if serious, could lead to Sepsis.
Hand Hygiene – reduce the spread of diseases and infections.
Safe Childbirth – reducing infection to the mother and baby.
Awareness of Sepsis– knowing the causes and symptoms can save lives.
If you think you are experiencing symptoms of sepsis, you should call 111 as you may require immediate medial attention.
For general GP health checks or vaccinations, you can book an appointment online.