Sepsis Signs:
World Sepsis Day – 13 September
Sepsis is a global health crisis and affects 27 to 30 million people every year. Out of those affected, 7 to 9 million dies. That's one death every 3.5 seconds.
Sometimes called the silent killer, Sepsis is a bacterial infection of the blood which can become life-threatening. It is very hard to detect in the early stages, with symptoms similar to many other conditions and illnesses. In the UK alone, around 37,000 people die from sepsis each year.
Thankfully, due to public awareness increasing due to medical bodies and health campaigns, sepsis is being talked about more. As a result, parents and doctors have the condition forefront-of-their mind. The condition is treatable with early recognition and care.
Causes of Sepsis
Bacterial infections are the most common causes of Sepsis. However, Sepsis can also be caused by infections like seasonal influenza viruses, dengue viruses, and highly transmissible pathogens.
Children under 1, the elderly and those with chronic diseases and a weakened immune system are most at risk of sepsis.
Symptoms of Sepsis
Sepsis can display in a variety of ways including:
Slurred speech or confusion

Extreme shivering or muscle pain or fever

Passing no urine all-day

Severe breathlessness

It feels like you're going to die

Skin mottled or discoloured
If someone is ill and is getting progressively worse with two or more of the above symptoms, then it is advised for you to go to A & E without delay.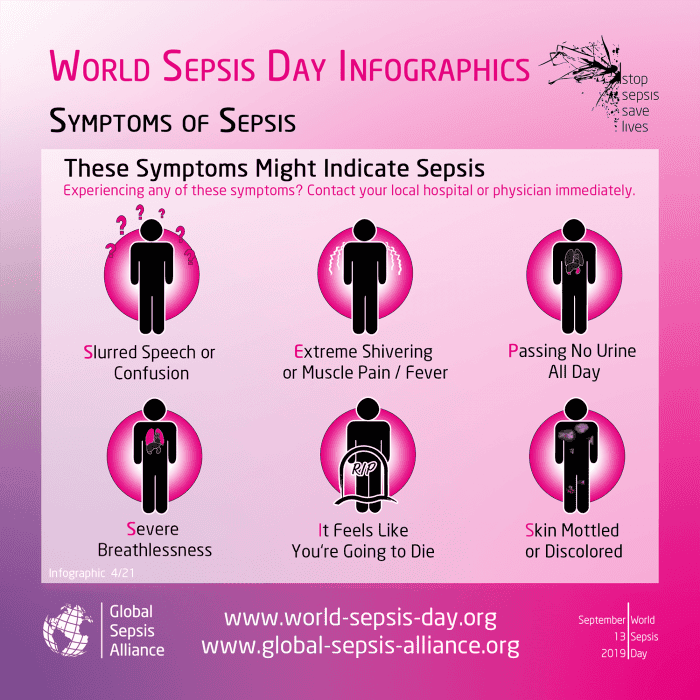 Preventing Sepsis
Preventing infection in the first place is the best way to prevent Sepsis from occurring.
This can be done by:
Vaccinations – protect yourself from diseases which if serious, could lead to Sepsis.
Hand Hygiene – reduce the spread of diseases and infections.
Safe Childbirth – reducing infection to the mother and baby.
Awareness of Sepsis– knowing the causes and symptoms can save lives.
If you think you are experiencing symptoms of sepsis, you should call 111 as you may require immediate medial attention.
For general GP health checks or vaccinations, you can book an appointment online.
Stoptober is a good time to reflect on smoking habits and how to improve health issues related to tobacco use.
Quitting smoking is one of the most effective ways you can improve your health and the benefits start almost immediately. And remember, it's never too late to quit!
The benefits of stopping smoking
After 20 minutes
Blood pressure and pulse are normalised, blood circulation improves.
After 8 hours
Levels of carbon monoxide in the blood decrease.
After 48 hours
Your sense of smell and taste are improving.
After 2 to 3 days
Less or no phlegm in the throat, fewer breathing difficulties.
After 5 to 7 days
Your breath is fresher, your teeth are cleaner and energy levels higher.
After 2 to 3 weeks
Physical withdrawal symptoms will stop, and you can now go several hours without thinking about smoking. Your risk of blood clots (thrombosis) is reduced.
After 4 weeks
Coughing, blocked sinuses and breathing difficulties should subside. The lungs are better able to resist infection.
After 2 to 3 months
Lung function improves by 5%.
After 1 year
The risk of developing cardiovascular disease is halved.
After 2 to 3 years
The risk of developing severe pneumonia or flu is the same as for a non-smoker. Your risk of heart disease, angina (chest pains) and stroke continues to fall.
After 5 years
The risk of throat, oesophageal and bladder cancer is halved.
After 5 to 10 years
The risk of developing cardiovascular disease or thrombosis is the same as for a non-smoker.
After 10 years
The risk of lung cancer is halved. The risk of developing osteoporosis decreases.
After 15 to 20 years
The risk of lung, throat, oesophageal or bladder cancer is the same as for a non-smoker. But heavy smokers (20 a day) have double the risk of lung cancer for the rest of their lives.
Help with quitting
If you need any advice or help to stop smoking, you can book an appointment with one of our GPs.