| Service | Turnaround Time | Price |
| --- | --- | --- |
| Diagnosing & Pre-Travel PCR Testing | | |
| - Ultra Rapid Testing | Results within 2 - 5 hours | £395 |
| - Same Day Testing | Results within 24 hours | £295 |
| - Standard Testing | Results within 48 hours | £175 |
| | | |
| Arrivals: Day 2 PCR Testing | | |
| - Ultra Rapid Testing | Results within 2 - 5 hours | £395 |
| - Same Day Testing | Results within 24 hours | £295 |
| - Standard Testing | Results within 48 hours | £175 |
| | | |
| Arrivals: Day 2 & Day 8 PCR Testing | - | £275 |
| | | |
| Arrivals: "Test to Release" PCR Testing | | |
| - Ultra Rapid Testing | Results within 2 - 5 hours | £395 |
| - Same Day Testing | Results within 24 hours | £295 |
| - Standard Testing | Results within 48 hours | £175 |
Fleet Street Clinic is not a VAT registered company
Covid-19 rt-PCR Testing
Covid-19 rt-PCR testing is considered the "gold standard" of coronavirus testing and is able to detect the Covid-19 virus with a high-degree of accuracy. rt-PCR testing is the most widely-accepted method of testing and our tests meet the Internationally-recognised minimum standards for sensitivity, specificity and viral load details for travel purposes.
We believe in rapid testing. Even our slowest "standard" testing option provides results in 48-hours. If you need your results as quickly as possible, we can deliver results in 2 – 5 hours with our "ultra-rapid" testing service.
Our PCR equipment can detect the original strain of Covid-19 as well as all current and emerging variants. Our PCR equipment detects the SARS-CoV-2 gene which is the same across all variants. Our lab is open 7-days a week for analysis so your results will always be delivered on time.
Covid-19 rt-PCR testing can be used for a number of reasons:
To provide peace of mind if you're concerned you're infected

Feel confident seeing loved ones or returning to the workplace

Provide evidence for International-travel 

Reduce your isolation period following International travel
For more information on red list countries and the rest of the world, click here.
We are able to do Covid-19 rt-PCR testing for corporate companies including large-scale productions, complex, multisite offices & company outbreak management.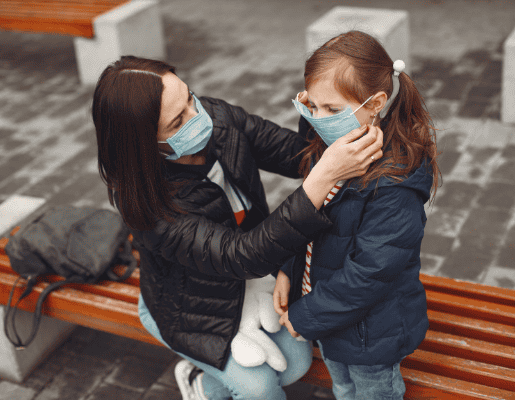 Results in 5 hours or less…
Ultra rapid testing is available
If you require urgent results, we can deliver your results in as little as 2 hours. Using our in-house laboratory we can fast track your sample to ensure you get your results as fast as you need them.
Book Appointment
Rapid results, for when you need them most!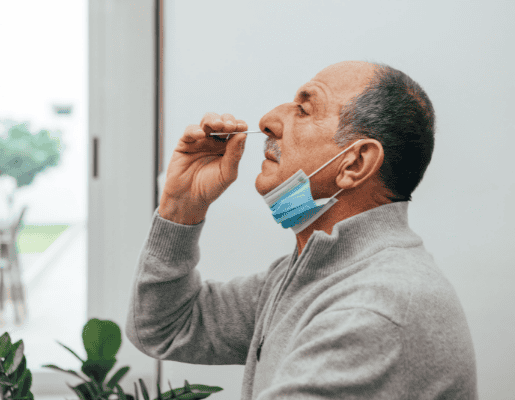 How to do a Covid-19 self-sample?
If you're doing a home Covid-19 rt-PCR test, here is some information.
For self-sampling, we are able to send you a self-sample home kit to your chosen location. It will contain all that you need to take the sample and return it back to us safely.
Before attempting to take your sample, we advise that you watch our video to demonstrate the self-sample technique. The better the sample, the more accurate the result. A complimentary video call with one of our nurses is also included in the cost.
Our nurses will guide you through the self-sample process and answer any questions or concerns you may have. Once the sample is analysed, we will help explain the results to you and support your diagnosis, if required.
Watch Video Here
'Very reassuring.'

We received a wonderfully professional and speedy service from the Fleet Street Clinic. I phoned at 12.30pm, my daughter was tested for Coronavirus symptoms by 1.30pm and we had received the results (negative luckily) before 4pm on the same day. Very reassuring. Thank you so much.

- Helen Johnston
| Service | Turnaround Time | Price |
| --- | --- | --- |
| Diagnosing & Pre-Travel PCR Testing | | |
| - Ultra Rapid Testing | Results within 2 - 5 hours | £395 |
| - Same Day Testing | Results within 24 hours | £295 |
| - Standard Testing | Results within 48 hours | £175 |
| | | |
| Arrivals: Day 2 PCR Testing | | |
| - Ultra Rapid Testing | Results within 2 - 5 hours | £395 |
| - Same Day Testing | Results within 24 hours | £295 |
| - Standard Testing | Results within 48 hours | £175 |
| | | |
| Arrivals: Day 2 & Day 8 PCR Testing | - | £275 |
| | | |
| Arrivals: "Test to Release" PCR Testing | | |
| - Ultra Rapid Testing | Results within 2 - 5 hours | £395 |
| - Same Day Testing | Results within 24 hours | £295 |
| - Standard Testing | Results within 48 hours | £175 |
Fleet Street Clinic is not a VAT registered company
Our testing costs are priced depending on the speed at which you need your results. 
Ultra Rapid Testing: Results within 2 – 5 hours: £395
Same Day Testing: Results within 24 hours: £295
Next Day Testing: Results within 48 hours: £175
Yes, you can change your test free of charge or cancel for a full refund as long as you do so with more than 24 hours notice.
There is a 50% cancellation charge for any cancellation made with less than 24 hours notice.We are not able to make changes or refunds after you have taken the test. To change or cancel your test, please contact info@fleetstreetclinic.com
 If you are wanting to book an in-clinic appointment you can use our online booking system. Simply select the turnaround speed you need and the date and time you'd like to come in.
If you have multiple tests to book or an urgent deadline, you can call us on 02073535678 to discuss your options.
Two of our testing options deliver same day results.
Our ultra rapid testing guarantees results within 2 – 5 hours of your appointment or when your sample arrives back to the clinic, if taken outside of the clinic.
Our same day testing guarantees results within 24 hours. We call this same day testing, however, please note most test results are delivered within 24 hours of your appointment or when your sample arrives back to the clinic, if taken outside of the clinic.
For those with extremely urgent requests, please call reception to discuss how we can help you. We will try to accommodate where we can.
It stands for "real time reverse transcriptase Polymerase Chain Reaction". It is a highly sensitive method of detecting viral genetic molecules, and a simple technical explanation is as follows.  The coronavirus genome is stored in molecules called RNA. The technique uses an enzyme to "reverse transcribe" RNA into DNA, and then to make many copies of any resulting DNA molecules that are an exact match with unique "target" sections of the coronavirus genome, to the point where they can be detected.
A throat and nasal sample is required. It will be taken by a nurse, a doctor, or by yourself at home under our guidance (via video call). The sample will then be analysed using a PCR machine. The PCR test works by detecting the genetic material of a virus at a molecular level. It can identify not just COVID-19, but also influenza, common cold viruses and other causes of respiratory infection from the same sample. This means it can pinpoint the exact cause of your symptoms. PCR testing can confirm or rule out an active Coronavirus (Covid-19) infection.
If you would like to book your appointments online, you can simply go through the short process of our online booking system for every member of your party. You will need personal details for each member of your party and make payment to complete the booking.
Alternatively, you can email or call us to book them all in at the same time. We will still require details about each member of your party and pre-payment over the phone to complete your booking.
Each Covid-19 "Fit to Travel" certificate generated at Fleet Street Clinic will be on headed document and include the signature and GMC number of our medical director, Dr Richard Dawood.
Covid-19 rt-PCR tests are valid for travel purposes and are the most common accepted coronavirus test. The only difference between our test is the speed of your results. We have 3 turnaround times to meet your needs. 
For more information on Covid-19 rt-PCR Travel Tests.
Each country and airline has slightly different requirements for Covid-19 testing. Many require a test no more than 72 hours before arrival into the country but some are 48 hours. Please check the government's foreign travel advice for your destination before booking your test to see what is required for your destination.
For more information on Green, Amber & Red list countries click here. 
The UK-Government set up the Test to Release scheme to reduce isolation times after International travel for those who do not have Covid-19. You can take a rt-PCR test no earlier than Day 5 after you've returned/ arrived in England. If your test is negative, you can end your isolation and go back to work and freely leave your home. Our ultra rapid test means you can cut your isolation time from 10 days to 5 days, if negative.
For more information on Covid-19 rt-PCR Travel Tests.
Yes, the UK-Government set up the Test to Release scheme. Fleet Street Clinic is an approved provider. You can reduce your self-isolation period from 10 days to just 5 days, provided that you test negative. This scheme is open to both individuals and companies.
For more information on Covid-19 rt-PCR Travel Tests.
We provide a full medical service, not just the sample analysis. Our end-to-end service includes: taking the sample, the testing itself, helping to interpret the result for you, and providing full documentation. If necessary, we will also liaise with your employer, your airline or your travel company. If you have a positive result we will notify public health authorities. We will also provide you with guidance on isolation and any additional measures or precautions that may be needed.
We are often asked this question by people who have been tested elsewhere. The usual problem is they haven't received their results in time for their flight. Our fastest system can deliver results in just 65 minutes. This is from when the sample is loaded into the machine. We may already have samples lined up for testing. So, we always need a little more time than this to turn things around.
If your result is needed very urgently, please explain this when booking your appointment and we'll give it top priority.
A PCR test requires a swab sample from the throat and nose. The swab looks like a long "cotton bud". The swab is touched against the back of the throat, and the inside of the nose. If a person is shedding virus, infected cells and viral particles are trapped on the fibres of the swab, ready for analysis. 
Coronavirus rt-PCR tests cannot be performed on a blood sample. Covid-19 blood tests detect antibodies, which the body produces in response to a Covid-19 infection. Therefore, the presence of antibodies denotes past infection not active infection. Whereas PCR tests detect current infection collecting a sample of live virus from the nose and throat.
The majority of people test positive on PCR by Day 5 or Day 6 following exposure to an infected case. However, in some cases it can take up to 14 days for a person to develop Covid-19 symptoms. This is why there is a self-isolation period of 14 days following contact with a Covid-positive person.
The equipment and consumables are expensive and in very short supply worldwide. For this reason, we cannot rely on a single system. Maintenance and unavailable consumables are unpredictable. Therefore, we have committed to multiple systems. This guarantees we can keep to deadlines, avoid delays, and deliver results whenever we promise too. Unfortunately, this carries a high cost.
Large laboratories process thousands of samples. They have to cope with the logistics of transporting and receiving samples, logging every sample that comes in, managing the data, and issuing results in bulk with plenty of scope for delay.
We have been using "point-of-care" PCR for in-clinic diagnosis for the past 4-years already. We have invested heavily in smaller systems that are operated from Fleet Street Clinic. The process is complicated and so delays still occasionally occur. To mitigate this risk, we have four different systems that back up one another. We process only a small number of samples and give each of them high priority. Therefore, we can guarantee all same day results are provided within a maximum of 24 hours.
For more information on Fleet Street Laboratory.
Our PCR equipment has been calibrated to pick up the gene of coronavirus and so it will detect all variants of Covid-19 as they all share the same gene. We can calibrate our machines further, should the need arise in the future.
Yes. The gene for the Delta variant is similar to previous strains and shares the same gene, which our machines are calibrated to detect so we will be able to determine if you have Covid-19. 
PCR tests require the swab to collect a sample from the back of the throat and nose – for this reason it can be a little uncomfortable, however our members of staff are highly trained and are as gentle as possible to ensure minimal discomfort. 
Yes. A PCR test can accurately detect the presence of Covid-19, whether you are displaying symptoms or not. However, if you are displaying symptoms, we ask that you do not come into the clinic and order a home test instead, which will allow for you to be tested safely from a distance. Call our reception team to order a home testing kit: 020 7353 5678