Rabies requires 3-doses for full protection. To book, select a travel consultation appointment with one of our expert travel nurses.
| Rabies Vaccine | Price | |
| --- | --- | --- |
| Single Rabies Vaccination | £40 | |
| Course of Treatment: 3 doses required | £120 | |
| Total cost including travel consultation fee | £140 | |
Fleet Street Clinic is not a VAT registered company
Rabies Vaccination
When travelling to areas of the world where rabies is present, it is important to consider the rabies vaccine.
Rabies is a serious viral infection which is fatal once it reaches the nervous system. It attacks the central nervous system causing progressive damage to the brain and spinal cord. Once symptoms appear, the result is nearly always death. However, it is important to understand that rabies is a 100% vaccine-preventable disease. If post-exposure vaccines are given promptly, the disease is simple to prevent.
A course of pre-exposure vaccines is available and recommended for all travellers visiting or living in at-risk areas before travel. This offers a level of protection and simplifies treatment should you get exposed to the rabies virus. The vaccination can be given from birth, and both adults and children require 3 doses to complete the course.
Rabies is entirely avoidable. Before travelling, you should always ensure you are aware of the rabies risk at your travel destination. Book a travel consultation with one of our travel nurses prior to travel to find out if you require the rabies vaccine for your upcoming travel plans.
How do we vaccinate against Rabies?
The Rabies vaccine is an injection into the upper arm.
As there is no effective cure for rabies, pre-exposure immunisations followed by post-exposure treatment (if infected) is the recommended course of action. Remember to take a written record of your rabies vaccination with you when you travel abroad.
How many doses do I need?
The pre-exposure vaccine course requires 3 doses for complete protection, usually given over 21 days.
Alternatively, those with time constraints can opt for the accelerated rabies vaccination course, whereby full protection is provided over 7 days. This option is suitable for spontaneous travellers and last-minute business trips to areas of the world where rabies is common.
If you're planning to travel to an area where rabies is found, you should complete the full course of 3 doses before you leave.
Who is the Rabies vaccine for?
There is still no treatment available once a patient develops the symptoms of rabies.
As there is still no treatment available once a patient develops the symptoms of rabies, it is advised that all those travelling or planning to work to areas where rabies is present should consider pre-exposure vaccination – even if the duration of travel/ work is short. It is especially important for those visiting remote areas, where medical care and rabies post-exposure treatment may not be available. Certain activities can increase your risk of exposure, such as working with animals, cycling, running and motorbike touring and so it is important to discuss your travel plans as well as your destination when seeking travel advice from an expert.
We always have time to listen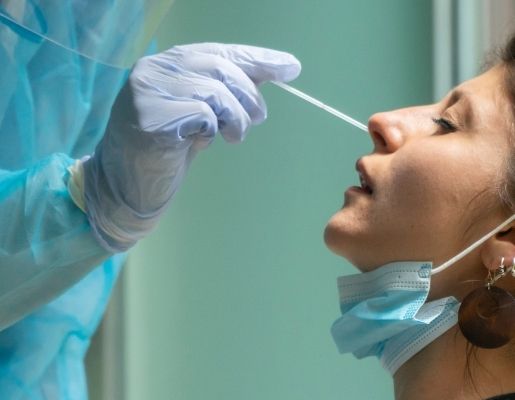 Do you need a Covid-Negative Certificate to Travel?
We can deliver results in 5 hours or less
If you require urgent results, we can deliver your results in as little as 5 hours with our ultra rapid Covid-19 rt-PCR testing. Using our in-house laboratory we can fast track your sample to ensure you get your results as fast as you need them.
Find out more
What is Rabies?
Rabies is a serious viral infection that attacks the brain and nervous system.
You can catch rabies from an infected animal if you have not been vaccinated. 99% of rabies cases are from dog bites but all animals can catch rabies and pass it on, including cats, monkeys and bats. Rabies is dangerous because there is no cure and once symptoms develop, it is nearly always fatal. Travellers should take precautions when travelling to countries where rabies is present.
What are the symptoms of Rabies?
The first symptoms of rabies can appear from a few days up to more than a year after the bite happens.
Initial symptoms of rabies include fever with pain and unusual or unexplained tingling, pricking, or burning sensation (paraesthesia) at the wound site. As the virus spreads to the central nervous system, progressive and fatal inflammation of the brain and spinal cord develops.
Once symptoms of the disease develop, rabies is nearly always fatal. These include:
Fever/ Headache lasting 2-4 days
Tingling/ burning at the site of bite or scratch
Fatigue
Sore/ swollen throat
Nausea/ vomiting/ diarrhoea
Intolerance to noise, bright light or air
Fear of impending death
Anger, irritability and depression
How can I prevent Rabies?
The best way to prevent rabies is to have a vaccination before you travel, before you are exposed to the virus.
It is best to discuss your travel plans during a travel consultation with an expert travel nurse to determine if your travel destination is considered at-risk.
India, Asia and Africa have the highest rate of deaths from rabies each year, most commonly from dog bites (99% of all cases), although rabies can be present in any mammal.
The virus cannot infiltrate intact skin and is transmitted through a bite or scratch that pierces the skin or a lick to an open wound. When visiting countries with a rabies endemic, it is best to avoid contact with animals, especially stray or wild animals to lower your risk.
You might also be interested in:
Rabies requires 3-doses for full protection. To book, select a travel consultation appointment with one of our expert travel nurses.
| Rabies Vaccine | Price | |
| --- | --- | --- |
| Single Rabies Vaccination | £40 | |
| Course of Treatment: 3 doses required | £120 | |
| Total cost including travel consultation fee | £140 | |
Fleet Street Clinic is not a VAT registered company
FAQs
Post-exposure rabies prophylaxis (PEP) is compulsory if you are bitten by a dog, cat or other animal that is rabid or is suspected to be infected with rabies. If a traveller has been bitten, scratched or licked, they should immediately wash the wound for 10-15 minutes with soap and water, or iodine, or alcohol. Do not cover the wound. If the rabies virus is present, this will inactivate and wash out a lot of the virus. It is important to urgently seek medical care and post-exposure vaccinations. Even after having the pre-exposure rabies vaccine, you should seek medical care in the event of an animal bite.
There is no specific treatment once rabies develops. There is almost nothing that can be done apart from keeping the patient comfortable, and free from physical pain and emotional upset.
No. All rabies vaccines for humans are inactivated. It is not possible for the rabies vaccination to cause the disease.
The vaccine can cause mild symptoms such as pain, redness, irritation or swelling at the site of injection, sometimes accompanied by a headache and/ or a high temperature.
Yes. All modern rabies vaccines are inactivated and are safe for pregnant women or lactating mothers. The rabies virus is not known to cross the placental barrier in women. It has no effect on fetal development during pregnancy or breastfed infants during lactation.
There are no evidence-based reports of human rabies occurring due to consumption of milk. Individuals or professionals who slaughter rabies infected animals and handle brain and other infected material may be at risk, but there are no human cases due to consumption of cooked meat. However, it is not advisable to consume milk or meat from rabid animals.
We will discuss your travel plans in detail, so a copy of your travel itinerary including proposed dates of travel, destination(s) you're travelling to and length of your stay are all helpful details for our nurses. We'll also discuss your health so information about your vaccination history to date is useful, as well as any medication you are currently taking.
We will most likely vaccinate you upper arm, we would therefore advise you to wear loose comfortable clothing for ease of access to your upper arm for vaccination.
We are conscientious that some of our patients or their close family members are deemed clinically vulnerable. Therefore, all our staff are fully vaccinated against Covid-19 for your protection and peace of mind.