Yellow Fever is a single vaccination which offers life-long protection. To book, select a travel consultation appointment with one of our expert travel nurses.
| Yellow Fever Vaccine | Price | |
| --- | --- | --- |
| Single Yellow Fever Vaccination | £75 | |
| Total cost including travel consultation fee | £95 | |
Fleet Street Clinic is not a VAT registered company
Yellow Fever Vaccine
We currently have stock of Yellow Fever Vaccine.
In the UK you can only obtain the yellow fever vaccination from a designated Yellow Fever clinic – which Fleet Street Clinic is. We are open throughout the week (Monday-Friday) with good availability.
Yellow Fever is a potentially fatal disease spread by mosquitoes. It is an entirely preventable illness – with a single Yellow Fever vaccine, Stamaril. The Yellow Fever vaccine provides immunity against the infection for LIFE.
All yellow fever vaccine certificates are also valid for life, including certificates with a lapsed expiry date.
We are usually able to accommodate same-day travel appointments – either book online or call to book.
Travellers who are going to an area where there is a known risk of the disease, should consider getting the Yellow Fever vaccine. You should seek to have the Yellow Fever vaccine at least 10 days before you travel for it to be effective and to be officially accepted by the country to which you are travelling.
Failure to provide a valid certificate where required could see you being denied entry to that country, or result in quarantine.
There is no treatment for yellow fever infection. Supportive and intensive medical care is required in the toxic phase to allow the body to clear the virus itself.
When attending a yellow fever vaccination appointment, please remember to bring your passport with you.
What is Yellow Fever?
Yellow Fever is an acute viral haemorrhagic disease transmitted by infected mosquitoes and has the potential to spread rapidly and cause serious public health impact.
The death rate is high in those who develop severe disease. There is no specific treatment, although the disease is preventable using a single dose of yellow fever vaccine, which provides immunity for life.
How do we vaccinate against Yellow Fever?
Vaccination against Yellow Fever is provided with a single jab, which is a live vaccine and can safely be given to infants over 9 months old and adults.
The risks of the vaccine increases for those aged 60 years and over, so it is important to book a travel consultation to carry out a risk assessment and discuss your options.
Who is the Yellow Fever vaccine for?
The risk of acquiring Yellow Fever depends upon the destination and risk of exposure to mosquito bites.
Our travel nurses will discuss your travel plans and look at your general health to determine if the vaccine is advised.
We Are An Accredited Yellow Fever Centre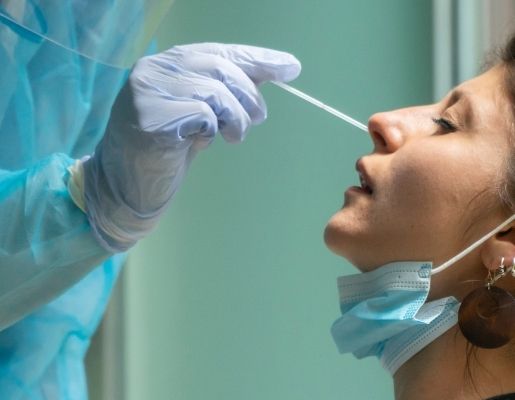 Do you need a Covid-Negative Certificate to Travel?
We can deliver results in 90 minutes.
If you require urgent results, we can deliver your results in as little as 90 minutes with our ultra rapid Covid-19 rt-PCR testing. Using our in-house laboratory we can fast track your sample to ensure you get your results as fast as you need them.
Find out more
You might also be interested in:
Which countries require Yellow Fever for entry?
There are several countries in parts of Africa which require a yellow fever vaccination.
However, there are many countries in Central and South America, as well as Africa where it is highly recommended, although not a requirement. You can speak with the travel nurse during your appointment to find out what the requirements are depending on your travel plans.
What is the risk of Yellow Fever?
The risk of contracting YF is determined by the following factors:
Travel destination
Intensity of yellow fever transmission in the area(s) to be visited.
Season of travel (most cases in travellers have occurred in the late rainy season to early dry season)
Duration of travel
Activities allowing exposure to mosquitoes
Immunisation status
In order to prevent the international spread of yellow fever, under International Health Regulations, countries may require proof of vaccination, recorded in an International Certificate of Vaccination or Prophylaxis (ICVP).
What are the symptoms of Yellow Fever?
It can take up to 6 days from being bitten by an infected mosquito to becoming symptomatic.
Initial symptoms of yellow fever include fever, chills, headache, nausea, muscle aches and weakness. This can progress to high fever and jaundice (yellowing of the skin and eyes), internal bleeding and organ failure.
There is no cure for Yellow Fever, and the virus can be fatal in up to 50% of people who have severe symptoms.
Yellow Fever is a single vaccination which offers life-long protection. To book, select a travel consultation appointment with one of our expert travel nurses.
| Yellow Fever Vaccine | Price | |
| --- | --- | --- |
| Single Yellow Fever Vaccination | £75 | |
| Total cost including travel consultation fee | £95 | |
Fleet Street Clinic is not a VAT registered company
Reorder your yellow fever certificate booklet
£20 inc. P&P
FAQs
In addition to the vaccination, protection against mosquito bites is important – wear long loose clothing, insect repellent with a minimum of 50% DEET, sleep under mosquito nets, use plugin vaporisers and treat clothes with permethrin.
If your certificate was issued at Fleet Street Clinic, we will have the details of the vaccine recorded and can issue you a duplicate certificate. You can reorder your certificate here.
If the vaccine was administered at another travel clinic, please email reception at info@fleetstreetclinic.com for further assistance on a duplicate certificate. We will do our best to help you.
You need to have the vaccine at least 10 days before travelling to give it enough time to work and for your certificate to be valid.
As it is a live vaccine, the Yellow Fever vaccine is not recommended for everyone and some factors do increase the risk, such as in those aged 60 years. It is recommended all individuals discuss their risk during a travel consultation prior to vaccination. One of our travel nurses will determine whether it is advisable for you to get the yellow fever vaccine or not.
As of 11 July 2016, The World Health Organization states that the period of validity of the yellow fever certificate (ICVP) has changed from 10 years to the duration of the life of the person vaccinated.
The yellow fever vaccine is only available from registered yellow fever vaccination centres. The jab is not usually given for free on the NHS. You will need to visit a travel clinic, such as Fleet Street Clinic for vaccination. We also provide you with a valid certificate as proof of vaccination which will be required for some internal travel destinations and VISAs.
We will discuss your travel plans in detail, so a copy of your travel itinerary including proposed dates of travel, destination(s) you're travelling to and length of your stay are all helpful details for our nurses. We'll also discuss your health so information about your vaccination history to date is useful, as well as any medication you are currently taking.
We will most likely vaccinate you upper arm, we would therefore advise you to wear loose comfortable clothing for ease of access to your upper arm for vaccination.
We are conscientious that some of our patients or their close family members are deemed clinically vulnerable. Therefore, all our staff are fully vaccinated against Covid-19 for your protection and peace of mind.